Top Fitness Gyms Near Me in Hong Kong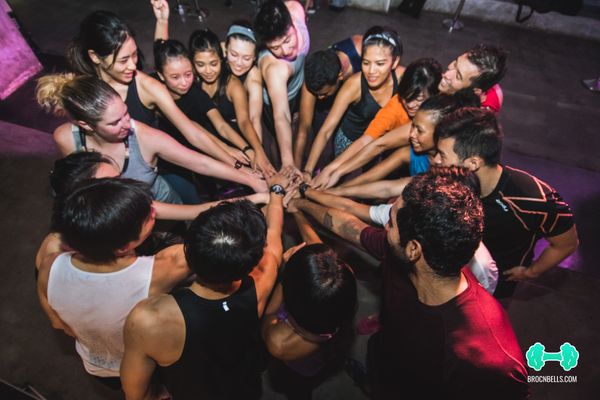 Locating the best gyms and fitness studios that are conveniently situated from your home or office or hotel can help sustain your fitness journey (plus the support of SweatBuddies and accountability partners - of course! 😉) .
With the hustle & bustle in a city like Hong Kong, it is extremely easy to feel overwhelmed from your personal and professional lives - work, social commitments, school, etc.
So, whether it's personal training, martial arts - boxing, Muay Thai, BJJ, indoor cycling, HIIT, pilates, barre or yoga that are you are looking for, here's a list of 30 playgrounds (a.k.a fitness studios) in Hong Kong where you can improve your physical & mental wellbeing, and find your tribe.
Create your profile and meet people over health & fitness!
House of Fitness - Gyms near Sheung Wan in Hong Kong
House of Fitness offers purpose-built workouts in a dark room setting to target individual goals and lifestyles. Join classes that focus on weights training, or cardio and full body circuit training.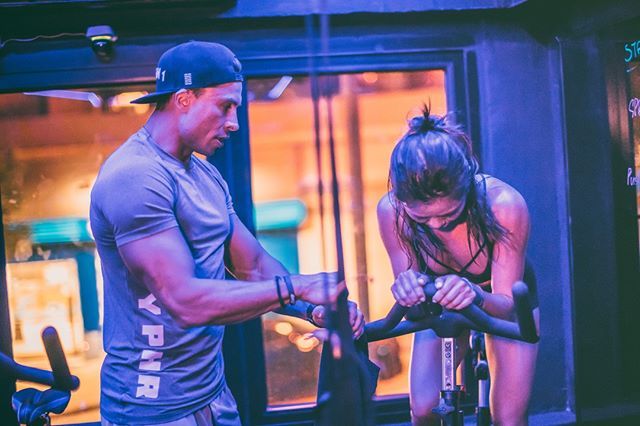 Get fit with your SweatBuddy at House of Fitness!
DEF Boxing - Gyms near Sheung Wan in Hong Kong
Want to find a gym that focuses on boxing and Muay Thai? At DEF Boxing, you can take personal or group classes on boxing and Muay Thai. Classes are capped at 8 students max, ensuring quality supervision from the instructors. They strongly believe in building your foundation through padwork, so classes will involve working closely with trainers to perfect your mastery on the basic techniques. DEF is also home to Hong Kong's first-ever and most decorated professional boxer, Rex 'The Wonder Kid' Tso.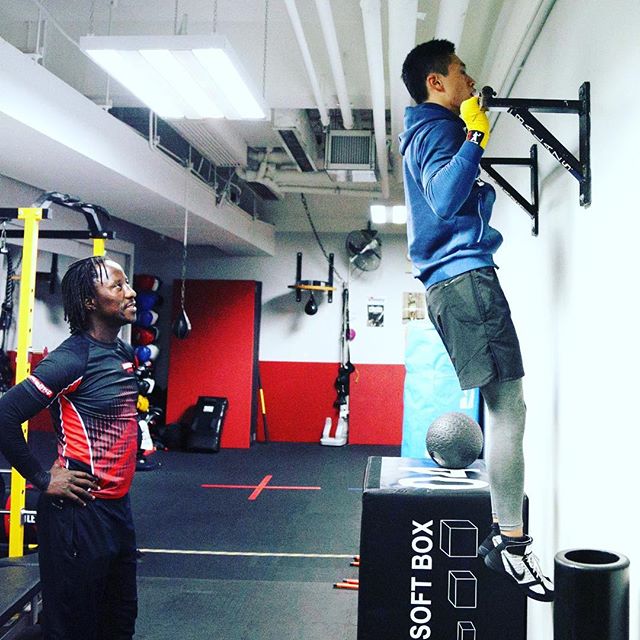 Find your boxing padwork buddy at DEF
Kita Yoga - Gyms near Sheung Wan in Hong Kong
Classes take place right in front of a large floor-to-ceiling window door, where you can observe life happening right outside as you practice various types of yoga and meditation at Kita Yoga. Founded by lululemon ambassador Nikita Ramchandani, yoga mats, wheels, blocks and other equipment are provided at this cosy studio for a wide range of flows and moves. Shall we say Namaste, together?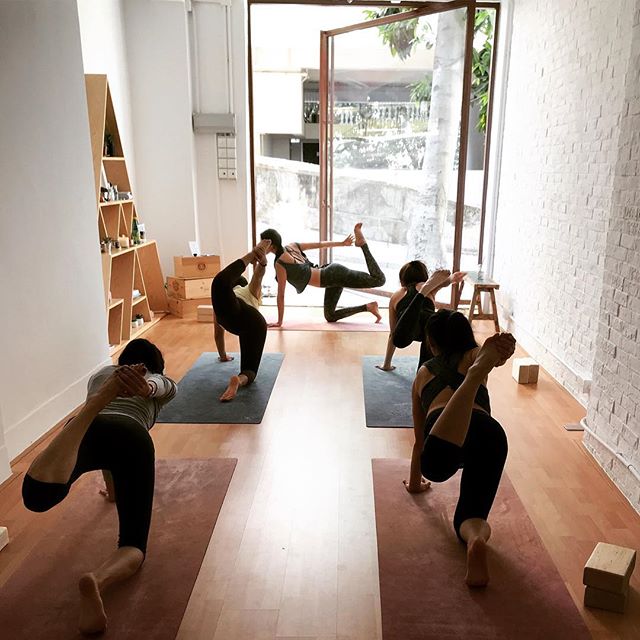 Let's OM at Kita Yoga
Coastal Fitness - Gyms near North Point in Hong Kong
Coastal Fitness boasts a like-minded community that strives towards an improved state of body and mind. They offer 4 types of group classes throughout the week: strength and conditioning (most regular), barbell club (focused on Olympic style weightlifting), functional gymnastics (focused on movements associated with gymnastics and calisthenics), and Coastal30 (30 minutes of HIIT). Led by one of the top Strength & Conditioning and CrossFit coaches in the region - Ed Haynes. The gym is open from 5 am until 8 pm, and there are classes available everyday. No more excuses to not meet your SweatBuddy!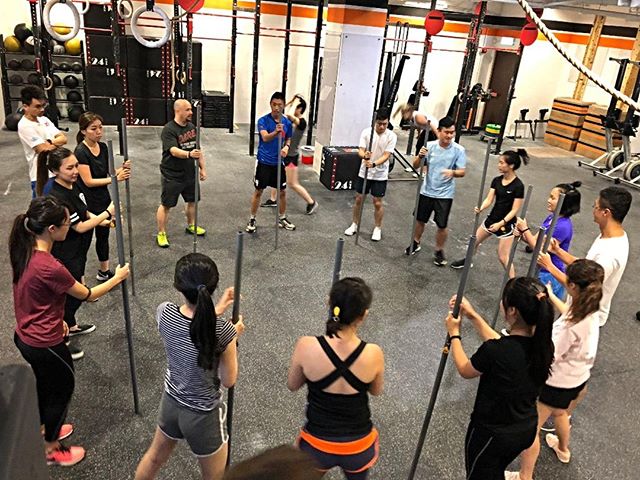 Discover your community at Coastal Fitness
PURE Fitness / PURE Yoga - Multiple locations across Hong Kong
PURE is well-known for its convenient and accessible locations - a nice sweaty workout session is just a few steps away! Pure Fitness offers state-of-the-art equipment for members to use, personal training sessions and group classes such as barre, conditioning and dance, leaving you with plenty of options to work your body towards your fitness goals. Pure Yoga provides a variety of yoga classes, ranging from vinyasa to aerial yoga to bollywood specialised classes!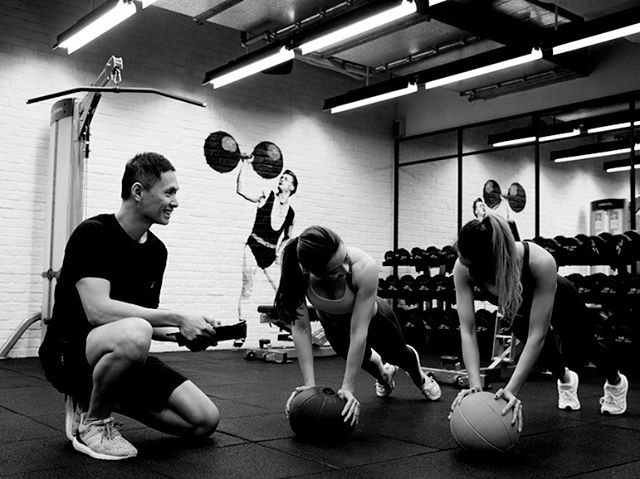 Buddy up to train at RAW Personal Training
Pherform - Gyms near Central in Hong Kong
Pherform is a training studio just for women in Hong Kong. The founders of Pherform understand that males and females differ anatomically, physiologically and hormonally, so they've created their own Female Specific Training (FST) programme. FST aligns with the differences in response to training in women, and their clients have reported losing fat, building lean muscle and increasing strength. Pherform offers 12 types of classes, from Boxher to Spinher to Powher.
Grab your girlfriends and head over to Pherform!
Ursus Fitness - Gyms near Sai Ying Pun in Hong Kong
With experienced and enthusiastic coaches, students at Ursus train under a friendly and supportive environment to improve their overall well-being. Class types offer great diversity and focus on individual needs & aspirations, including Strongman, Bear Camp, Powerlifting, HIIT/Conditioning, Muay Thai and Boxing.
Find your Strongman & woman at Ursus Fitness
XYZ - Gyms near Central in Hong Kong
If you are a fan of Lan Kwai Fong (LKF) and the HK nightlife, then XYZ is probably the workout for you. Nestled in a hidden 'cave' oasis, step into the indoor cycling room and the atmosphere switches to a nightclub-like environment. You can expect uplifting music that you can dance to on the bike, as well as motivational inspiration delivered by their instructors to be your best self. Occasionally, the energetic and outgoing instructors will lead theme rides, such as Taylor Swift vs. Kanye West, 90's music and hip-hop. XYZ is located in the heart of Central, and is equipped with showers, clean towels, shower soaps and hair dryers, making the studios very accessible to busy workers who want to go for a spin before, during or after work.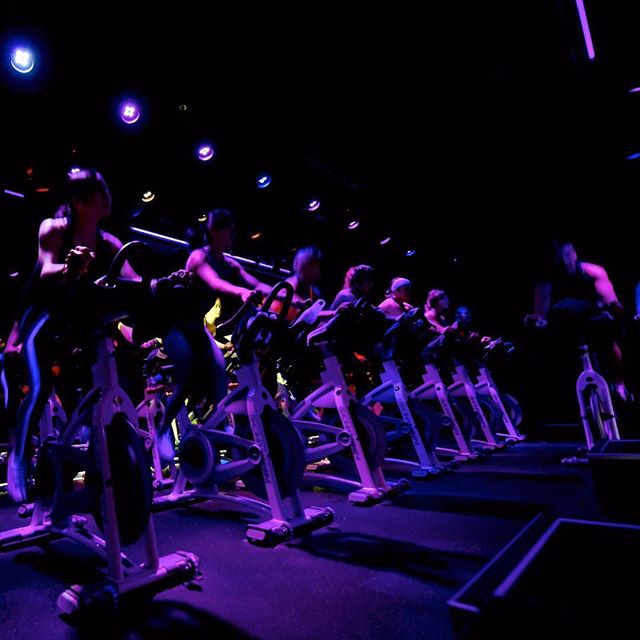 Ready to get your sweat on together at XYZ?
RAW Personal Training - Gyms near Central in Hong Kong
The key differentiator in RAW Personal Training is that they provide personal training and nutritional consultations. They cater to all fitness levels - urban professionals to athletes - ensuring that the environment is non-intimidating and welcoming, making beginners feel like they belong. Their highly professional, certified and experienced trainers have led many of their clients towards their dream body and fitness goals, including bodybuilding, wedding, cardiovascular conditioning, flexibility and stretching, injury rehabilitation, lean muscle mass and weight training goals.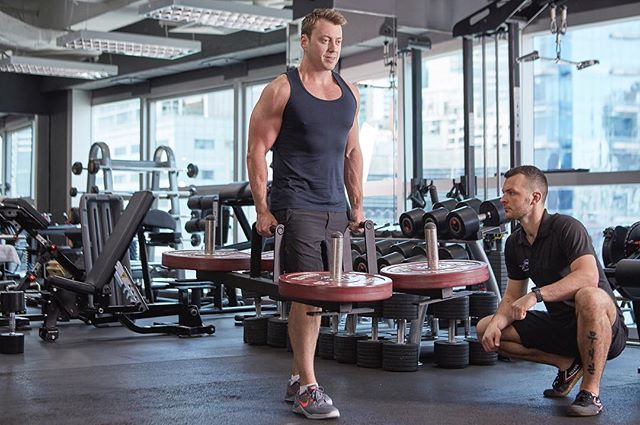 Buddy up to train at RAW Personal Training
Lights Out - Gyms near North Point in Hong Kong
Lights//Out is an immersive boxing group class experience under ever changing playlists and lights. You will find yourself smashing out boxing combos on aqua bags half the time, with dumbbell and bodyweight workouts during the other half. Expect 45mins of punching, lifting, moving and sweating at a blistering pace to guarantee an unforgettable training experience that will make you want more.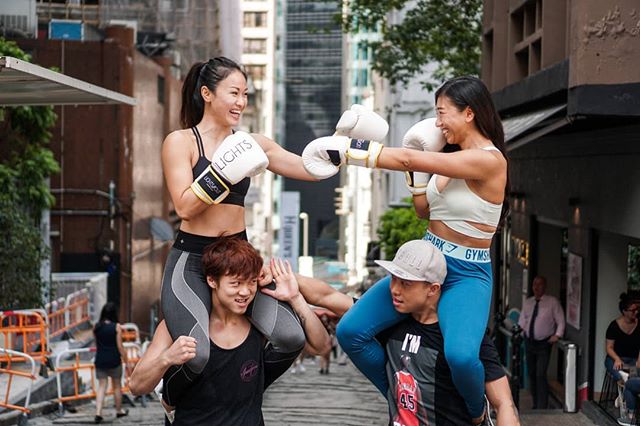 Buddy up at Lights Out!
Verm City - Gyms near Quarry Bay in Hong Kong
Verm City is a full facility rock climbing gym in Hong Kong - select from bouldering, to top rope, Clip N' Climb and leading wall. Perfect way to build trust with a total stranger, friends and scale greater heights, together!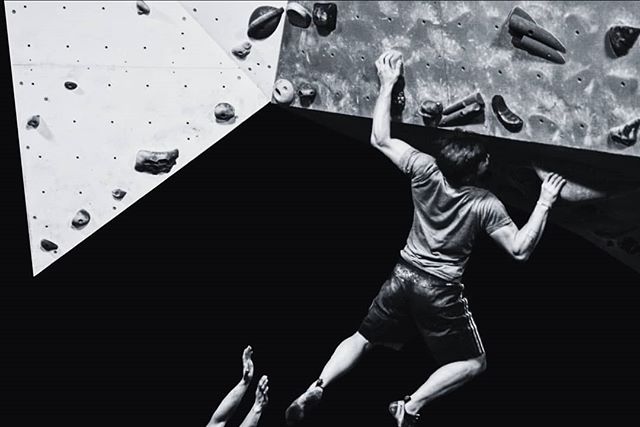 Tackle your climbing problems with a SweatBuddy at Verm City
Aerial Arts Academy - Gyms near Causeway Bay Hong Kong
Aerial Arts Academy is a premier artistic dance school for breakthrough classes such as pole, hoop, silk, aerial hammock, trapreze and contortion. Boost your fitness, self esteem and body confidence, and leave each class empowered, motivated and proud of what you can achieve.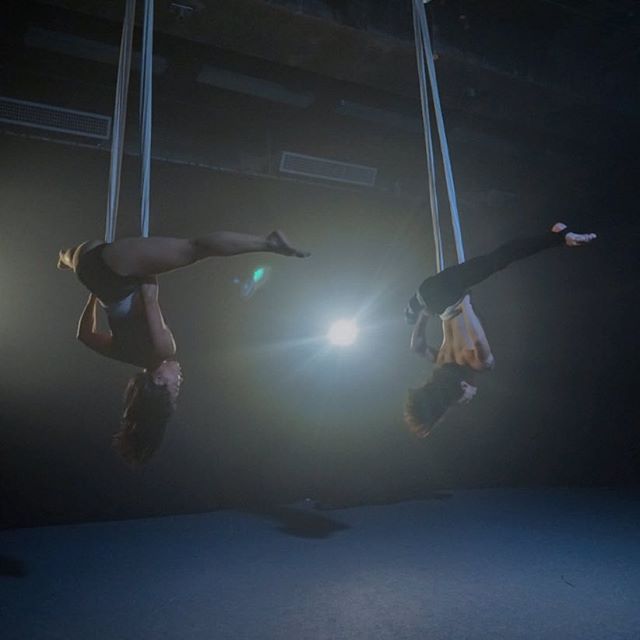 Let's dance at Aerial Arts Academy, SweatBuddy?
Torq - Gyms near Central in Hong Kong
Whether it's cardio, strength training or stretching, you've got it all at Torq, where there are 3 modes of training available: Torq-cycle, Torq-switch and Torq-release. Their cycle classes are divided into 4 other categories based on difficulty and duration, allowing you to choose a class that fits your own fitness goals. Torq-switch classes provide circuit training and strengthen your body through a wide range of exercises, and their Torq-release classes help you relax through foam rollers and dynamic stretches.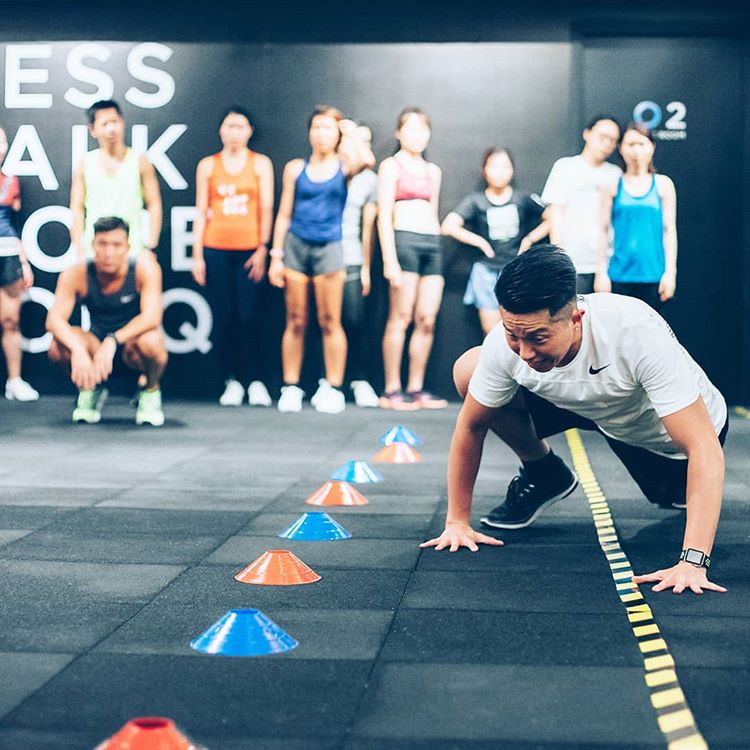 Visit TORQ in the heart of Central, Hong Kong - with a SweatBuddy
H-Kore - Gyms near Central in Hong Kong
Looking for an innovative full body workout? H-Kore is the sole Lagree Fitness studio in Hong Kong featuring the Megaformer - with a series of pulses and holds, you are going to find your limbs and core quivering to hold yourself up! H-Kore offers a variety of classes throughout the day from early morning to night, such as the basics, as well as a pre- and post-natal class!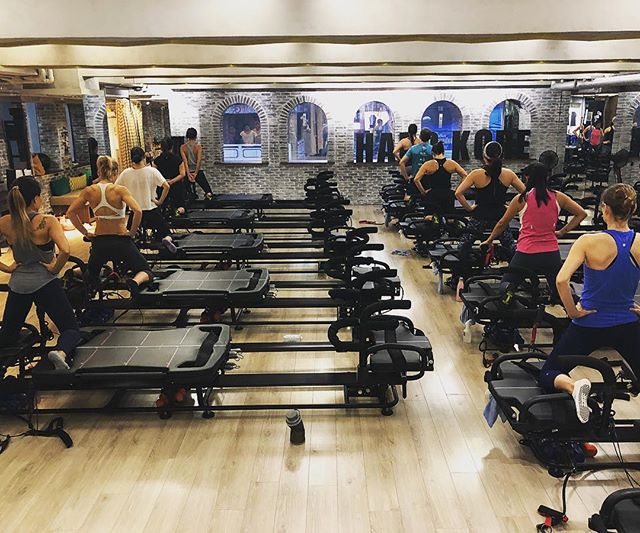 Who's ready to brace your core together at H-Kore?
Yoga BamBam - Studios near Central in Hong Kong
Situated in a quiet neighbourhood next to cafés, shops and art galleries, Yoga BamBam has 2 chic boutique studios where small class sizes ensure individual attention from instructors. With no memberships, no pesky sales teams and no middlemen, people can choose from a wide selection of traditional and creative classes. On weekdays, Yoga BamBam offers 5-8 classes, while on weekends, they offer 12-15 classes. So don't worry, you will definitely be able to get your yoga fix whichever day you choose to go!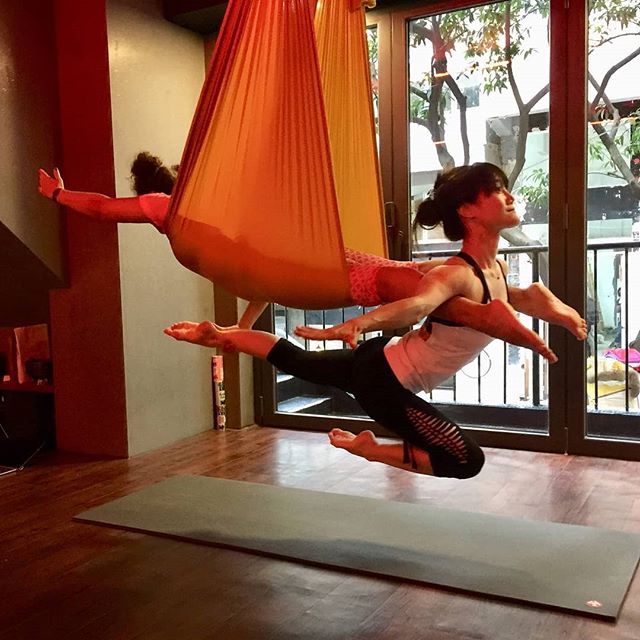 Find your yoga mate at Yoga BamBam
Goji Studios - Multiple locations across Hong Kong
Goji Studios' philosophy strays away from the one-size-fits-all experiences. They follow a customised and transparent approach to fitness training, and they go the extra mile to provide personalised nutrition and physical fitness guidance to their clients and corporates. Located in both Kowloon (Tsim Sha Tsui, Mongkok) and Hong Kong Island (Sai Ying Pun, Wan Chai, Causeway Bay, etc) - find the outlet that is convenient for you!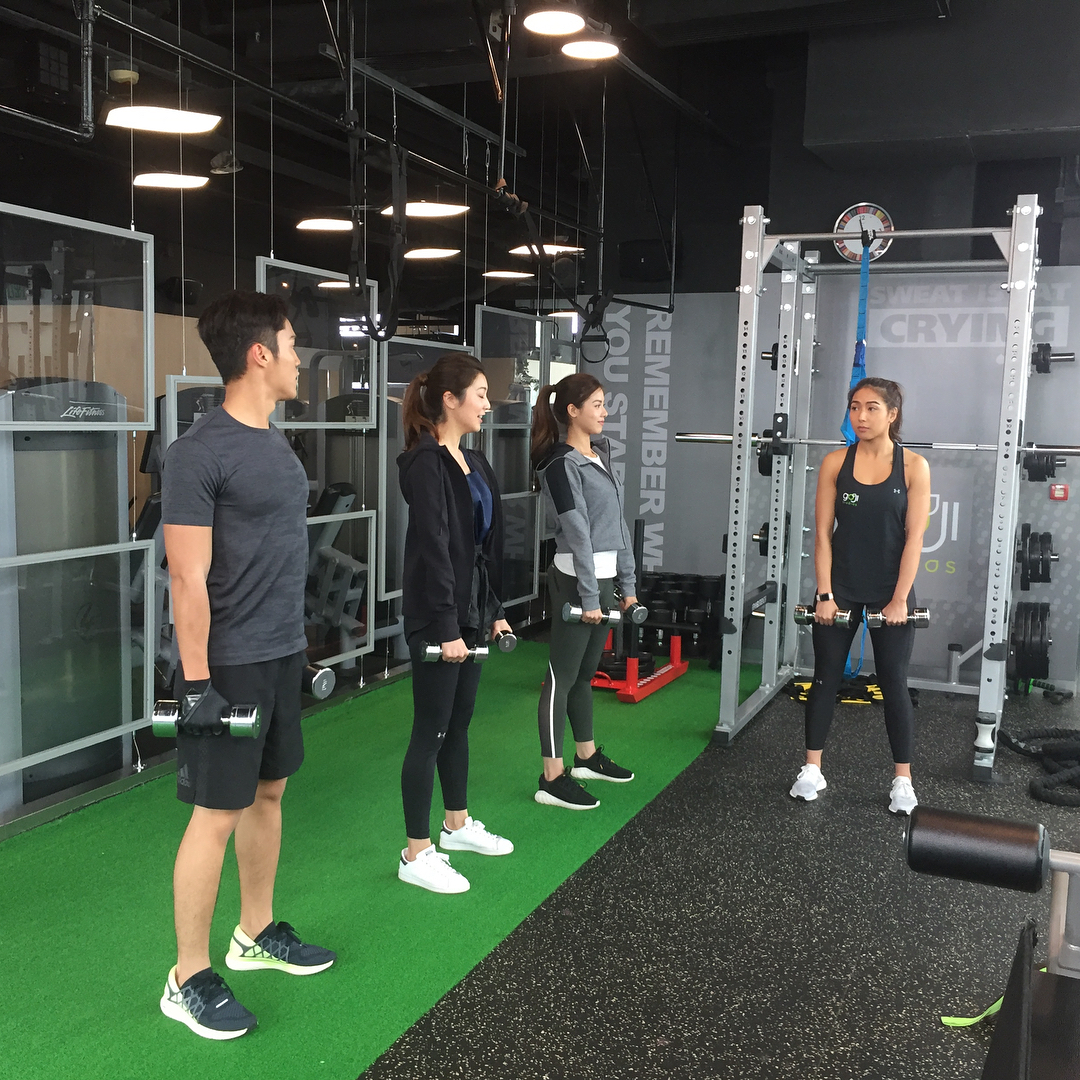 Visit a convenient Goji Studios location with your SweatBuddy
Red Doors Studio - Studios near Wong Chuk Hang in Hong Kong
If you are looking for something relaxing and rejuvenating amidst a busy chaotic life, or feeling like you are not getting quality sleep, then Red Doors Studio is the place for you. They strive to bring ancient healing to modern times through various modalities such as gong baths, walking meditation on labyrinths and kundalini yoga. Restore balance in your physical, emotional and mental beings, hopefully leaving you feeling content, optimistic and energetic!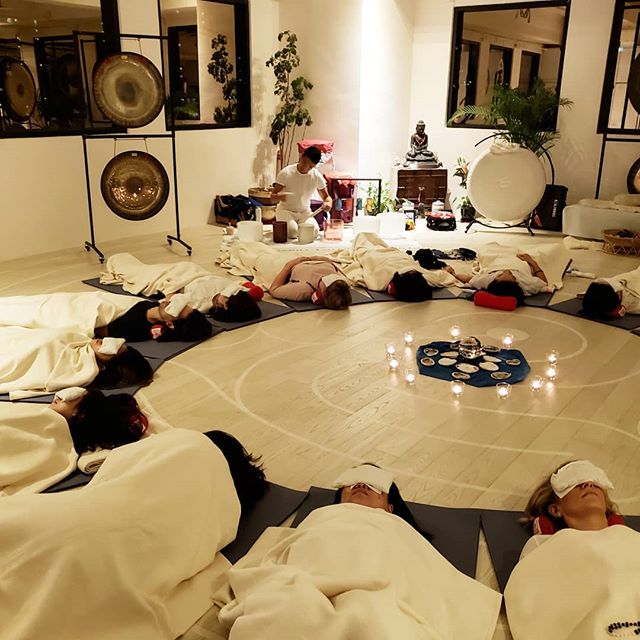 Find your mindfulness buddy and check out Red Doors Studio together
Barre 2 Barre - Gyms near Central in Hong Kong
Barre 2 Barre is a cosy, welcoming and friendly space that offers BarreAmped classes, stretching, meditation, suspension, bounce and bootcamp classes throughout the day. Private or small group lessons are also offered, which allow for more personalised attention to clients nursing pain / injuries, new moms / moms-to-be for example, and flexibility in scheduling.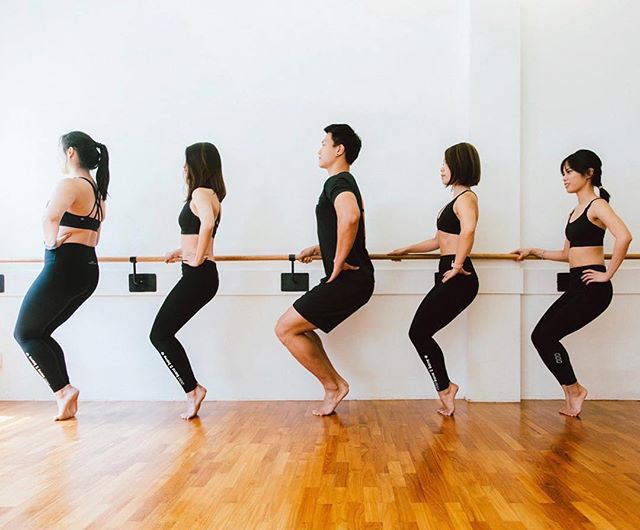 Grab your girlfriends and head over to Barre 2 Barre
F45 Quarry Bay - Gyms near Quarry Bay in Hong Kong
Originally a fitness franchise from Australia, F45 stands for functional training 45 minutes, where classes will push you through all sorts of functional movements for 45 minutes. F45 has developed 31 unique circuits, where different circuits emphasise on different objectives, such as resistance training, cardio, boxing and bodyweight focused. The circuits range from having a few stations to as many as 50+ stations, so you will never get bored of doing the same exercises. To keep track of each station, all F45 studios have installed monitors that demonstrate the movements for the stations, so that you will never feel lost during the class!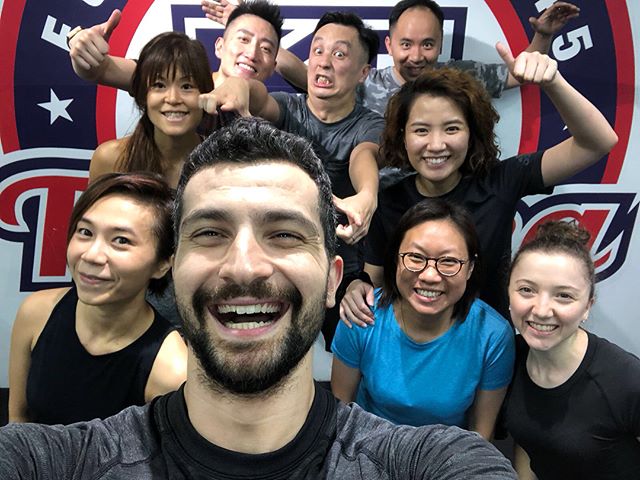 Find Your SweatBuddies at F45 Quarry Bay
Flex Studio - Gyms near Wong Chuk Hang and Central in Hong Kong
Flex Studio helps you transform through sculpting, toning, strengthening and stretching. They specialise in yoga, pilates, cardio conditioning, barre and antigravity fitness. Classes are 50-60 minutes each, and open to all client levels and practices.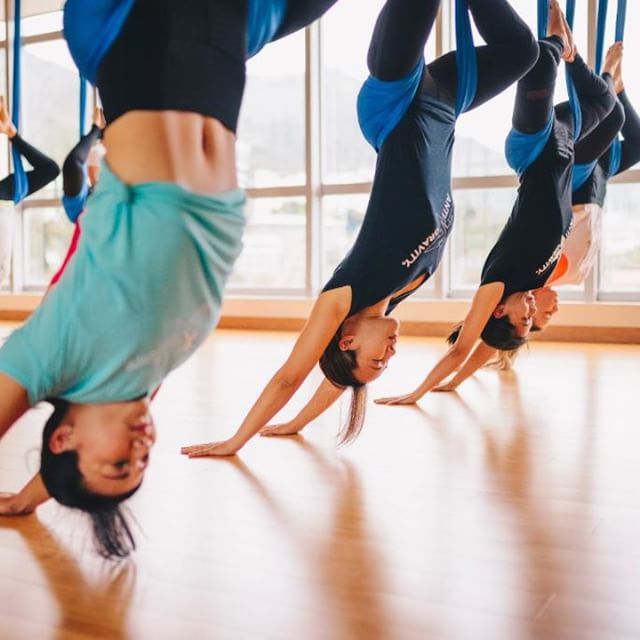 Sculpt, tone, strength & stretch with your SweatBuddy at Flex Studio
Orangetheory Fitness - Gyms near Causeway Bay in Hong Kong
Orangetheory Fitness' high-intensity workouts are designed to keep your heart rate in the target zone to boost your metabolism and energy. During class, data from your heart rate monitors will be displayed on a screen, along with everyone else's! Through cardio workouts on the treadmills, rowers, and strength training, instructors will be pushing you to keep your heart rate in the target zone for the duration of the class, so that you can actually see how your movements are impacting your physiological responses. Fitness franchise from USA.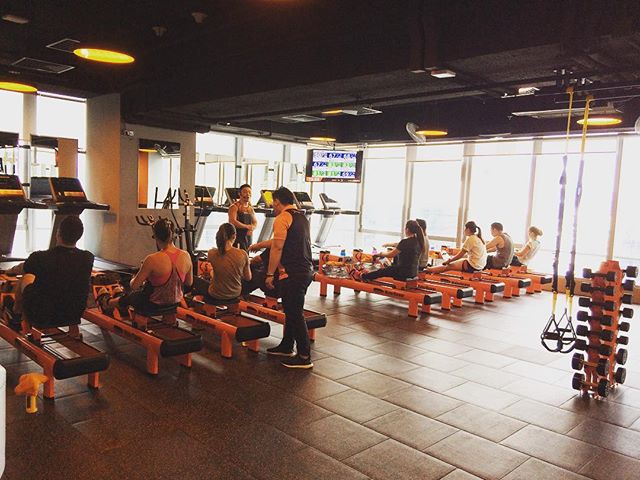 Get your sweat on with your SweatBuddies at OTF CWB
Ultimate Performance - Gyms near Central in Hong Kong
Ultimate Performance is serious about giving results to their clients. Science based and approved by experts around the world, their personal training programs are designed specifically to fit your goals. They offer fat loss and muscle building personal training (usually 12 weeks), bridal bootcamp, group fitness classes, online coaching and meal preparation services.
Train with a buddy at Ultimate Performance
GoNature Bouldering/Climbing Gym - Gyms near Kwun Tong in Hong Kong
If you're looking for something out of the ordinary and a unique way to train your muscles, then GoNature may be just the place for you. With sport climbing, rock climbing, abseiling, mountain crafting and athletic training courses of varying difficulties available, you will be working your entire body to climb your way up different walls! This colourful playground is suitable for both adults and kids, and there are parent-child classes available if you want to spend more time doing adventurous activities with your young ones.
Find a bouldering buddy and head over to GoNature
Fitness Academy - Gyms near Quarry Bay in Hong Kong
Located in a 3,000 square feet facility, Fitness Academy provides a full size Rogue rig, high ceilings for rope climbing, Olympic weightlifting platforms, rowers, bikes, shower rooms, towel service and parking. Small, fun and friendly group CrossFit classes, competitive training and barbell club will keep you motivated to strive for your best while being pushed by others around you.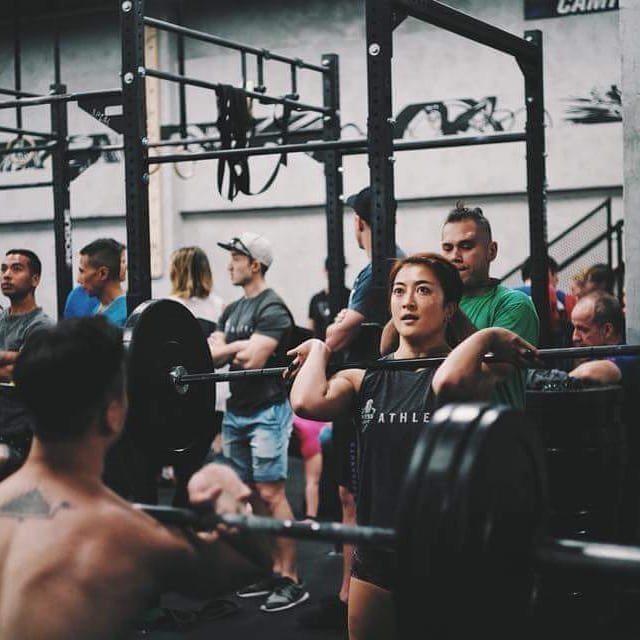 Schedule a free trial with your SweatBuddy at Fitness Academy!
Topfit - Gyms near Central in Hong Kong
Topfit is the elite workout spot to go for convenience and variety. Located in the heart of Central in Hong Kong, you can find yoga, barre, circuit training, TRX, HIIT and more in Topfit. With fully-equipped showers and locker rooms, you can easily stop by throughout your day to destress from work and focus on yourself.
Catch BrocnBells.com SweatExpert and Spartan Ambassador Johnny Tieu in action at Topfit!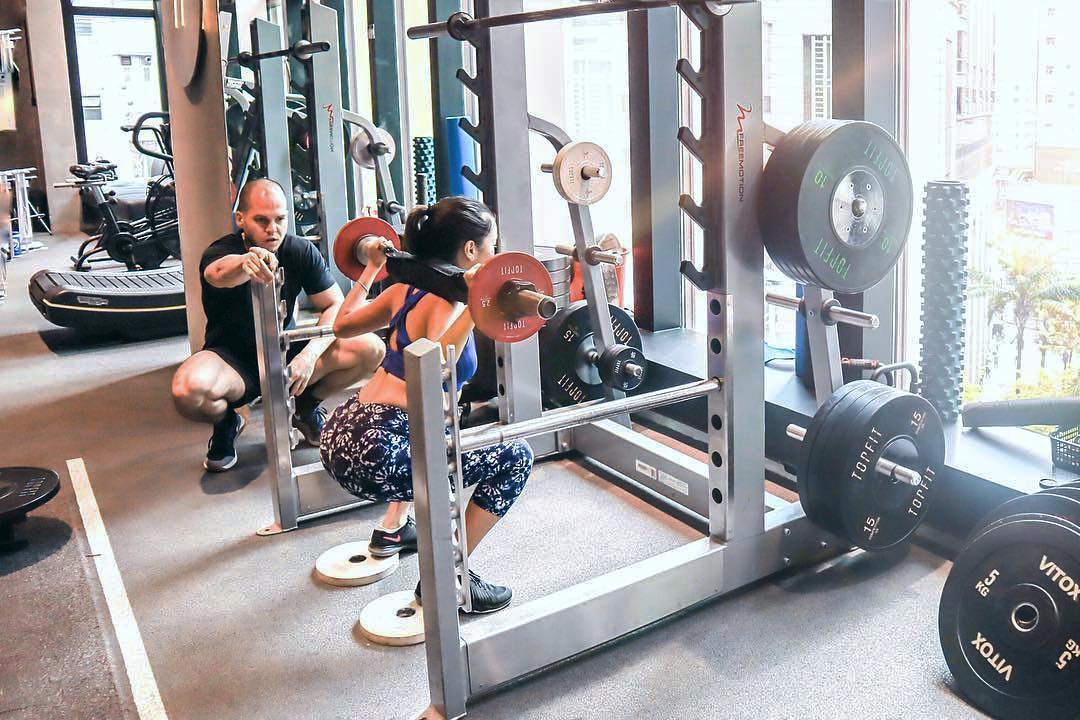 Buddy up and get your sweat on at Topfit!
WeBarre - Gyms near Central in Hong Kong
At WeBarre, you can choose to partake in one of the following 3 types of classes: signature multi-level, fundamentals and HIIT. These classes vary by props and movements, but don't be fooled – be prepared to work up a good burn & sweat! The studio is open from 7am to 9 m on weekdays, and 9am to 5pm on weekends. Whether you want to drop in before work in the morning, or get your body moving after sitting for hours, WeBarre's convenient location will help your rush to/from work a little less stressful.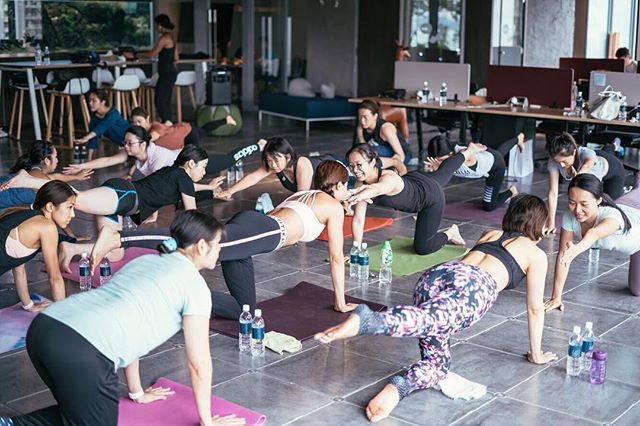 Grab a friend and plan your workouts together at WeBarre!
JAB Studio - Gyms near Central in Hong Kong
The Studio by JAB is a comprehensive fitness & wellness center located in the heart of Central, HK. Learn how to hit your health & fitness goals through their personal training, small group fitness classes, martial arts classes and relax through sports therapy massages, cryo ice bath therapy and infrared saunas. Focused on personal training guidance, you will undoubtedly learn heaps about your workout form and body transformation.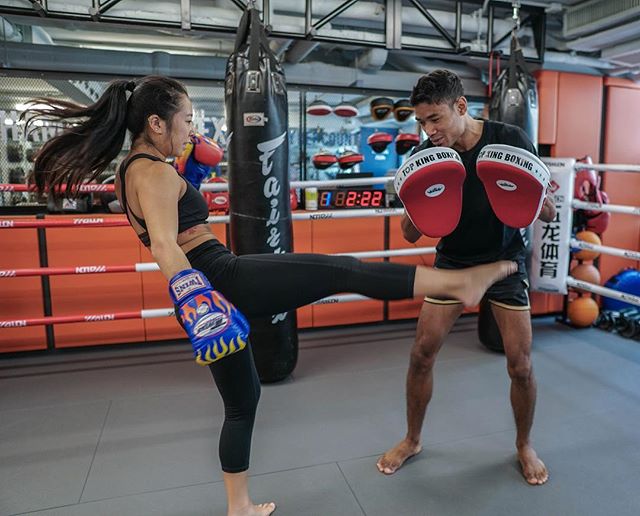 Explore the variety of workout options at Studio by JAB with a SweatBuddy!
Trybe - Gyms near Wong Chuk Hang in Hong Kong
Trybe is the place to go to for gymnastics, weightlifting, acrobatics and movement. Classes take place in front of a large floor-to-ceiling window, letting natural light pour in as you practice all sorts of movements with a tribe of other like-minded people. The most unique classes they offer are rings & tumbling (gymnastics) and handstand & acro adagio (circus). These classes are rarely offered in other gyms, and focus specifically on building coordination and strength for you to practice these moves in a safe environment.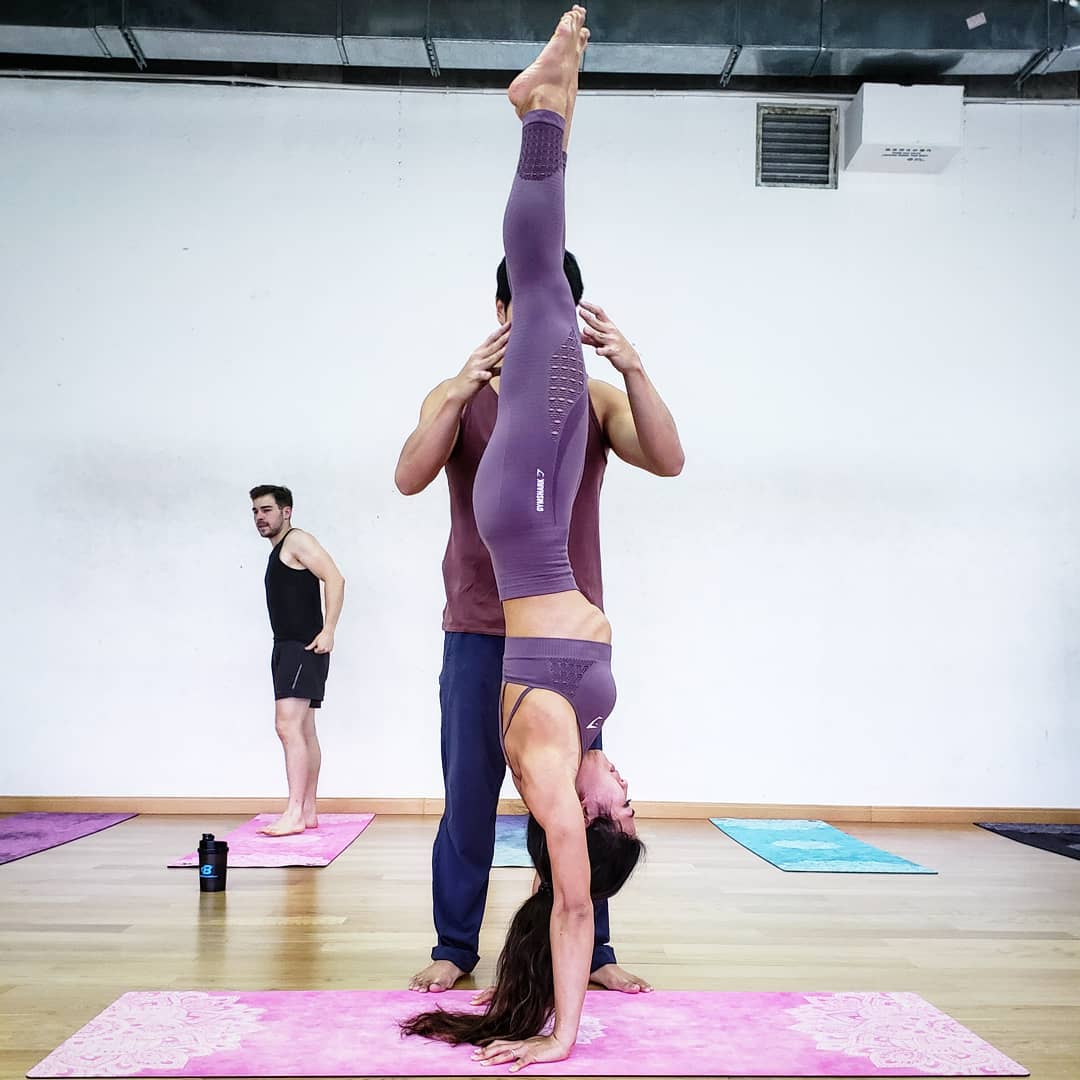 Find a buddy and check out Trybe together
Reebok CrossFit Asphodel - Gyms near Kennedy Town in Hong Kong
At CrossFit Asphodel, they focus on intensity rather than volume. If you are looking to train your function in addition to form, this may be the place for you to practice in a welcoming environment. They change up their workouts every day, focusing on different body parts and different functional movements each day of the week. Although their main classes are CrossFit, they also offer Decompression Antigravity and other types of classes throughout the day.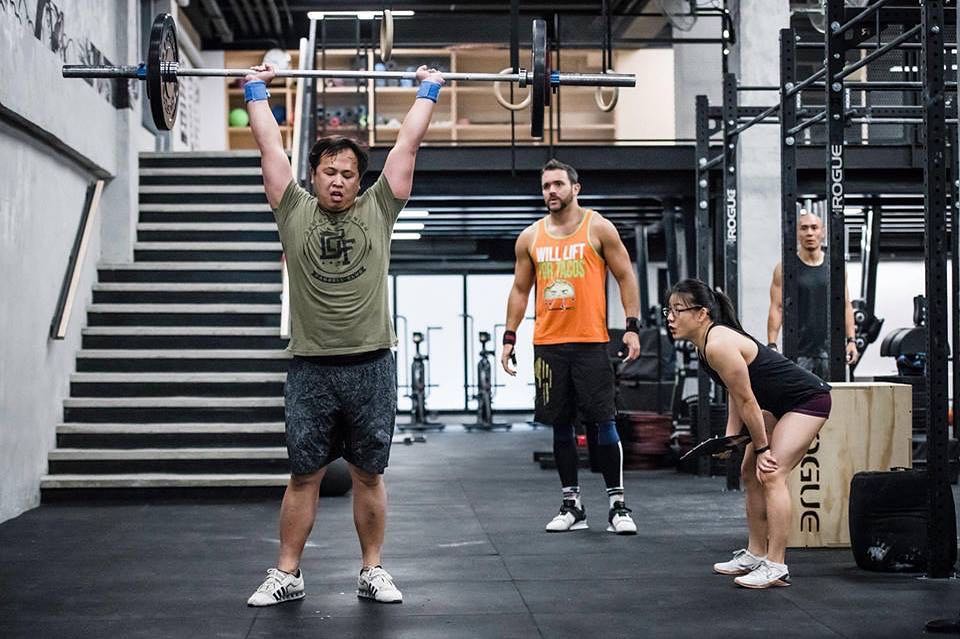 Up your game with a SweatBuddy at CrossFit Asphodel
HIT45 - Gyms near Central in Hong Kong
Looking for an efficient strength and cardio group class? HIT45 is an indoor bootcamp studio that hosts 45 minutes of HIIT in the heart of Central, and they promise to make beginners and athletes alike work up a sweat! Using a mixture of cardio exercises on treadmills, free weights and body weight exercises, HIT45 will be the place for you to burn fat, build strength and tone up. After the class, you also have the option to have a protein bar or protein shake, so you can fuel your muscles.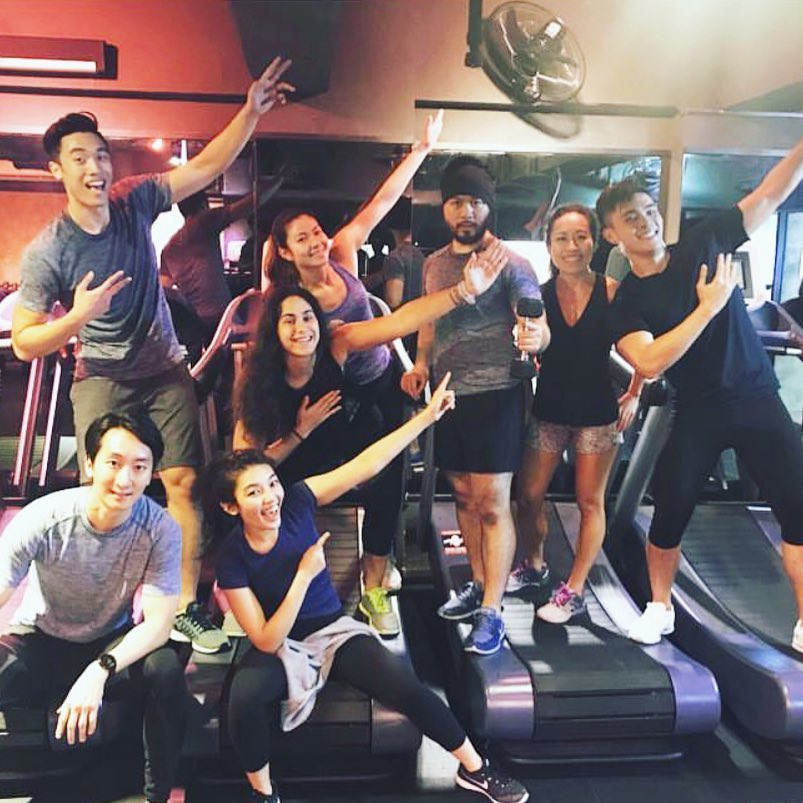 Hustle for that muscle at HIT45 - together!
---
Meet like-minded people over health & fitness – browse SweatBuddy profiles and connect over your similar lifestyles, gyms & healthy cafe hangouts, even while travelling.
Create your free profile and start connecting!
Ps. Join our launch party in HK on Sat, 3rd Nov. Full details here: http://tinyurl.com/BNBHIITMEUPHK
Questions or feedback? We'd love to hear from you. Drop us a note: [email protected].