Singapore Weekend: Outdoor Walking and Hiking Routes in Nature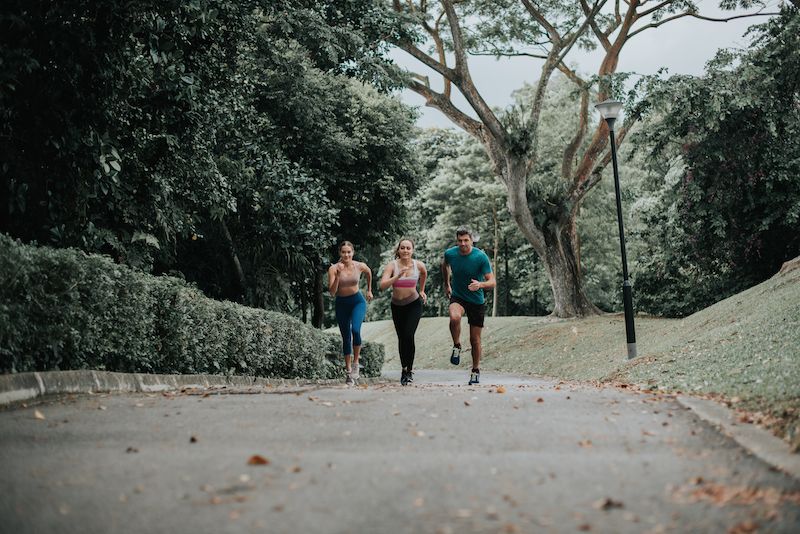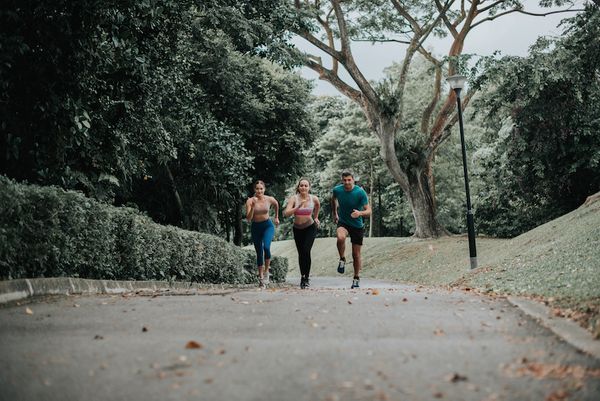 WORK WORK WORK. We know how it goes; whether driven by passion, success, money, or necessity we live in a time where people work extremely hard.
Working hard can mean long hours and long hours usually translates to some type of undesirable situation like fatigue, stiffness, aches, boredom and the list goes on.
Fortunately, human beings are resilient and can recharge much more quickly than they are broken down. In a growing field of research, there is a tremendous amount of focus put on the mental and social components of health and well-being, particularly in the corporate setting.
There are two things that have been shown to significantly help solidify sustainable health practices:
Breaking the routine by doing something outdoors.
Getting active with a friend or group of people.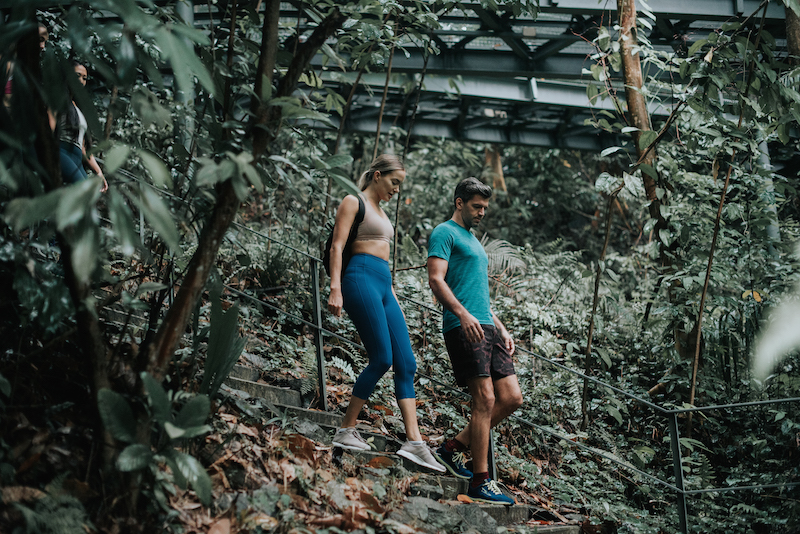 Not only do these studies tell us that working out together and being outdoors have a better chance of creating lasting healthy habits, they also show how obviously important physical activity is for a myriad of other health benefits that range from improved attitude and focus to decreased risk of many types of degenerative diseases.
A lot of times the ONLY thing that is preventing us from getting off our butts and moving is that extra motivation - that little nudge from someone else.
Read more: Why you should find a workout buddy
Fortunately, Singapore is one of the easiest cities to enjoy a wide range of activities that are accessible, fun, AND adventurous. Along with a highly active population, not only can you find fun things to do, you can usually find a great crew to explore new adventures with.
Regular Gym Goer? Corporate Warrior who enjoys leisure strolls? Regardless of your experience and fitness level, there are always more ways to get involved in outdoor activities and more people willing to join you in the process.
Here are some tips on some of the most easily accessible adventures for beginners and experienced fitness experts alike...all you have to do now is to connect with an old/new friend and head out to hike in Singapore together. Now you've got new things to explore this weekend!
HIKING in Singapore
Singapore is known as the Garden City and the National Parks Board does a tremendous job of preserving green spaces for an easy escape from the concrete jungle.
The following three adventures range from short and easy walks to long and challenging routes to disappear for a quick run, hike or trek in Singapore. They maximize exposure to green-ness, while usually trying to work in some hills for that extra burn.
The most memorable experiences on these trails involve getting lost and discovering something new.
It's important when you head out in the heat to carry enough water, food, and sunblock to ensure a safe journey (and mosquito repellant if you'd like!). The beauty of Singapore is that no matter how deep you get into some trails, you are never too far away from civilization - so take a risk, get your friends and hit the trails.
You can find your SweatBuddy who are keen to embark on these adventures with you via BrocnBells.com and check out the descriptions below, with links to access the maps on Strava.
Hiking in Singapore: PEARL'S HILL CITY PARK
This is the most accessible route to get a great escape below shade trees in the heart of the city.
Difficulty: EASY TO MODERATE
Location: Tanjong Pagar Park Connector to Pearl's Hill City Park Loop
Distance: 3.5km
Strava: Link
Start off at the workout equipment behind Pinnacle at Duxton and head towards Chinatown on the park connector. After you cross New Bridge Road and Eu Tong Sen St, you start to make the climb to the top of Pearl's Hill. There is no set route to the top and try getting lost among the stairs and trees. As soon as you feel you have had your fix, turn around and come on back the same way. This hike / run can be made more difficult by going up and down the hill as many times as you can. There is even equipment at the top of Pearl's Hill to add a bodyweight HIIT workout halfway through the trek.
Hiking in Singapore:DURIAN LOOP TRAIL
Who's down to forage the king of fruits in the middle of the night?
Difficulty: MODERATE TO HARD
Location: Bukit Timah Nature reserve to Durian Loop Trail
Distance: 5km – 20km depending on route and ending location
Strava: Short version - Link; Long version - Link
It may only be a short section of trail in the extensive network of Bukit Timah Trails, but it packs a lot of diversity over that short distance. If you are lucky enough to be out there during durian season, you will even catch the sweet aroma of the king of fruits that gives this trail its namesake.
Come at night and you may see a crew full of headlamps tracking down these fallen majestic fruit. At the end of the trail, you can turn back towards the Bukit Timah Nature Reserve entrance or carry on and connect to MacRitchie. That link up is only for the crazy adventurers out there - but with your sweat buddy, any adventure is ready to be conquered.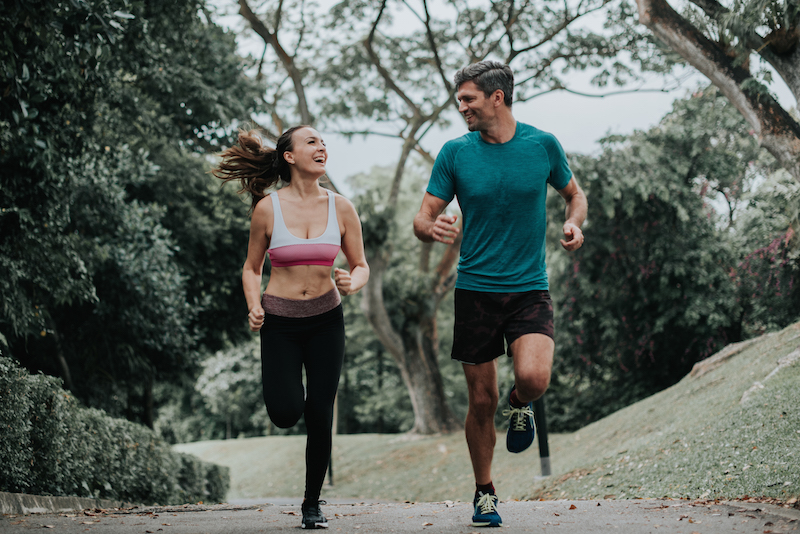 Hiking in Singapore:SOUTHERN RIDGES
This link up of hills along the southern ridges is one of the best ways to get some elevation gain on our flat little island.
Difficulty: CHALLENGING to VERY HARD
Location: Marang Trail opposite Vivo City to Mount Faber to Henderson Waves Bridge to Telok Blangah Hill Park to Forest Walk to Hort Park to Kent Ridge and back.
Strava: Link
Distance: 13km with lots of hills
On top of getting in some serious climbing, you are greeted with amazing views at every clearing of the trees. If you want to be even more adventurous and rugged, there is an old trail underneath the Forest Walk that brings you through densely covered paths and through streams - so be prepared to get your feet a little wet during rainy season.
Once you reach Hort Park, there are ample water stations to rehydrate and continue on to the big climb to the top of Kent Ridge Park. This is where you will feel like a hero; summiting after already trotting 6km of gruelling hills. The final surge to the top is met with a tranquil setting of giant shade trees and benches to relax, catch your breath, take in the view and turn around to head back.
Looking for a SweatBuddy to hike / run with outdoors? You can do so here.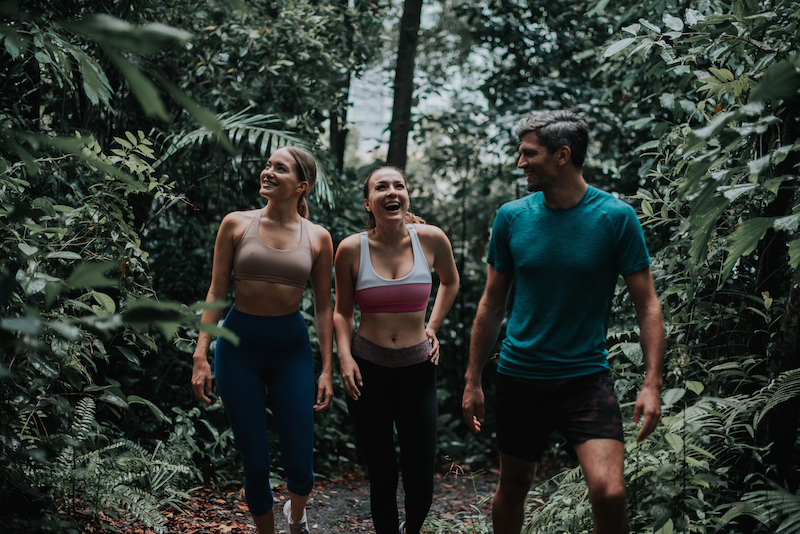 ---
Article contributed by BrocnBells.com Ambassador and chiropractor Dr. Jesse Timm. Jesse loves the outdoors and enjoys exploring the nature of Singapore - mostly via runs - in his free time. He has been in Singapore for over 8 years and hosts our regular fortnightly Run X HIIT sessions.
These days Brocnbells is no longer focused on events and is a online only platform for discovering your the best SweatBuddies poossible for you to exercise and become a better person with.
Any questions? Drop us a note at: [email protected].