[EVENT] Bootcamps & Booze by BrocnBells.com @ Tanjong Beach Club, Singapore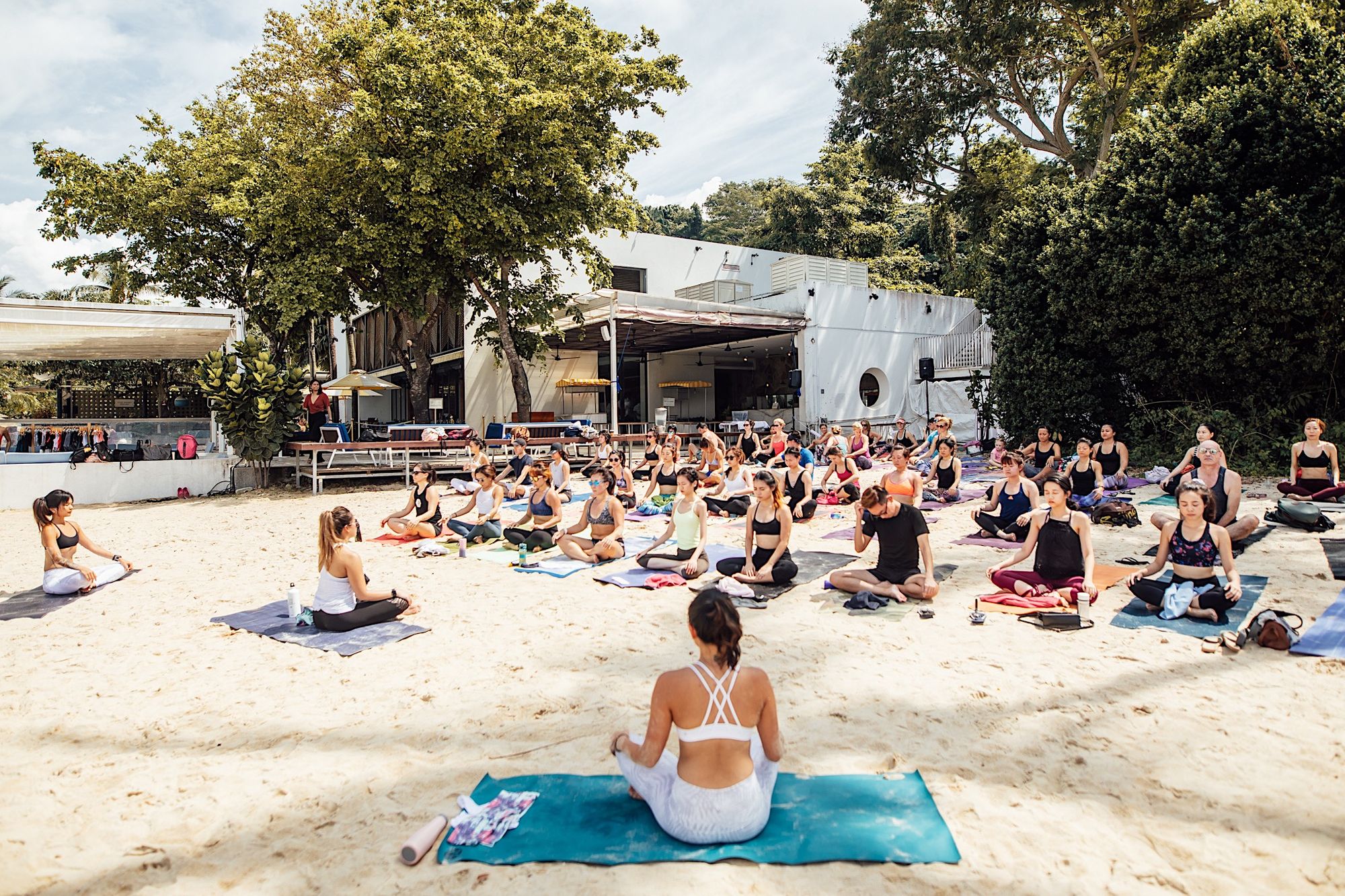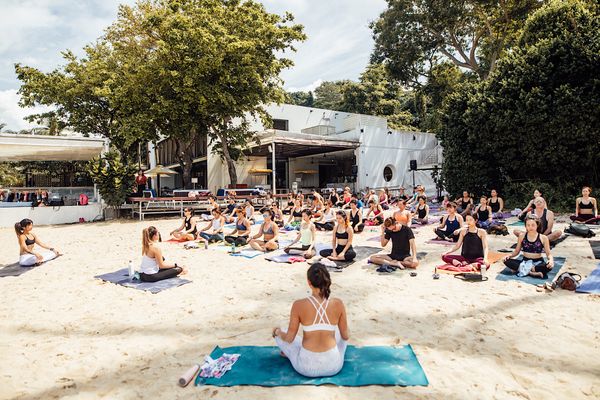 📱Short for Broccoli & Dumbbells, BrocnBells.com is your social platform to meet like-minded people over health & fitness. Create your FREE profile and start connecting!
THE ULTIMATE CONNECTION EXPERIENCE by social fitness platform Broc & Bells ft. Bootcamps. Booze. Booty 🍑 @ Tanjong Beach Club, Singapore.
Saturday, 16th March 2019, 9am-12pm
🥦FREE ENTRY! Register here for updates and access to marketplace & fringe activities + instant entry to raffle.
💦Social Fitness Workouts are ticketed (includes goodie bag + instant entry to raffle).
BOOK YOUR TICKET
💜A reunion to simplicity - simple connections and mindful conversations over fitness & drinks - that's real and timeless in all of us.
By combining fitness and drinks, the goal is to make fitness more social and less intimidating to the broader community, while providing an avenue for regular gym goers to have that cheeky drink. Balance, anyone? 🥂
Empowering individuals to find new meaningful connections over shared experiences to live better together.
🗣Share FB event with your friends here.
👫Connect with new, like-minded people to attend the event together.
SOCIAL FITNESS WORKOUTS
830am: Registration starts
9am - 10am: 💪Bootcamps X Booze ft. UFIT (Wendy Riddell & BrocnBells.com Ambassador Wany Misban)
10am - 11am: 🥊Box X Booze ft. Ground Zero (Alexandrew David & Jacqueline Kee)
11am - 12pm: 🙏Barre X Yoga ft. Barre Lab & Yoga Lab (Cheryl Lin & Kat Meadows)
💪BOOTCAMP. HIIT to good beats with buddy workout movements.
.
🥊 BOX. A heart pumping workout incorporating shadow boxing, coupled with explosive & dynamic bodyweight exercises.
.
🙏🏽 BARRE X YOGA. Enjoy the intention filled session by the beach.
All fitness sessions are designed to be social and to get you fit and happy.
Note: Social drinks post workout; not during. Includes goodie bag (1st 100 sign ups).
P.s. 1st 20 guys to sign up get a free underwear from our friends at Bundies!
GRAB YOUR SPOT!
FRINGE ACTIVITIES
CONNECT zone ft. 'BBB' burpees challenge by BrocnBells.com
Massage & Stretch by UFIT Clinic
MARKETPLACE
In addition to the curated lineup of brands and sampling goodies, check out the exclusive creative collaborations, with the goal of bringing like-minded brands together in the community.
BOOK YOUR SPOT
Goodie bags & Giveaways
What's in your goodie bag?
Free class pass to Barre Lab
Sachets from Nuzest
Bifesta wipes
BrocnBells.com 'Can't Live Without Broccoli & Dumbbells' Tote Bag
WIN
3x Supergoop gift packs (worth S$129 each)
2x 1 month unlimited bootcamps with UFIT (worth S$88 each)
Ps. You're encouraged to bring your own tumblers; dress in activewear.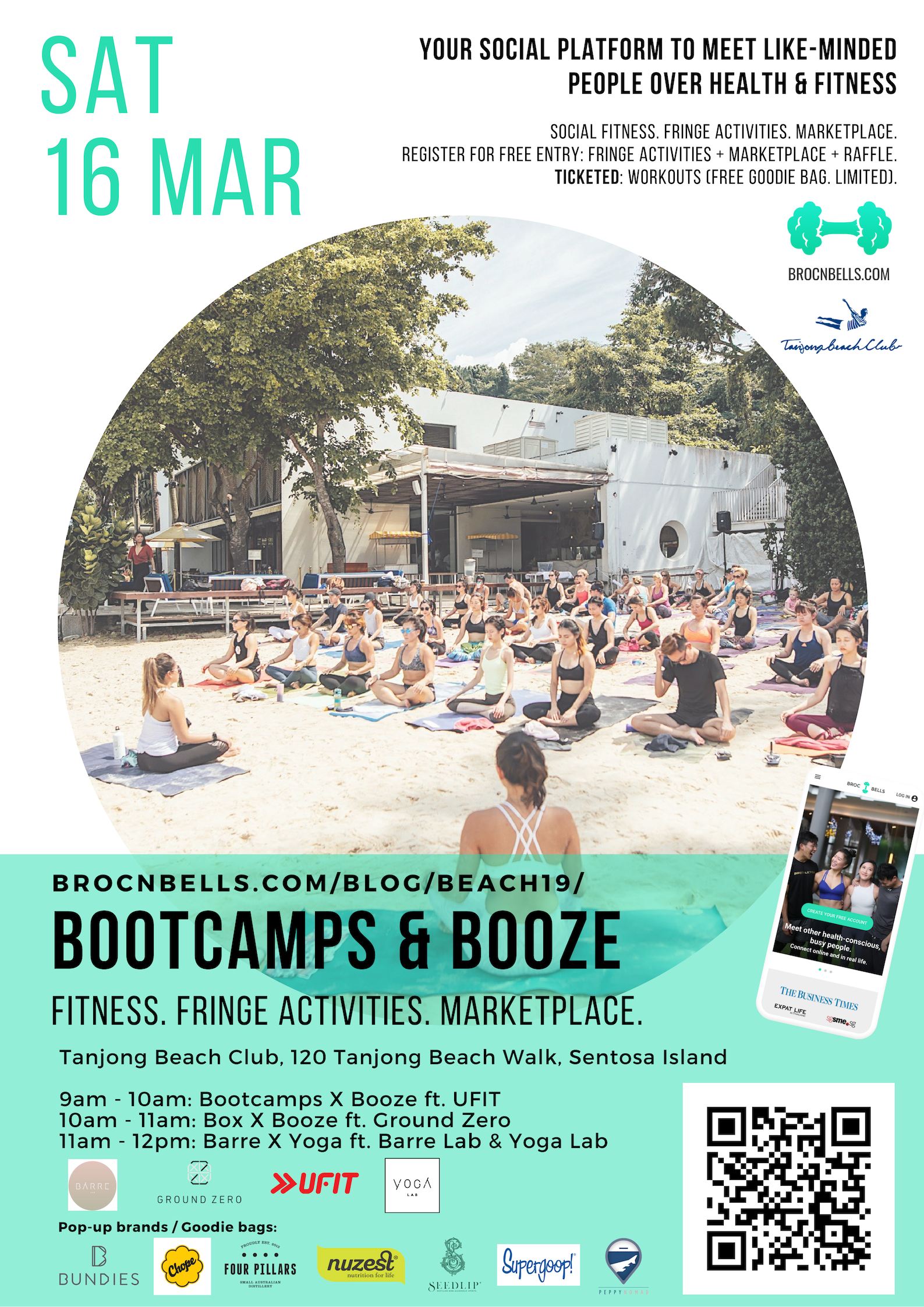 Questions / Keen to get involved? Get in touch via email - [email protected].